Review by Carson Hearne
Running Time: 1 hour 33 minutes
MPAA Rating: PG
Directed by: Jim Henson and Frank Oz
Written by: David Odell and Jim Henson
Starring: Stephen Garlick, Lisa Maxwell, Billie Whitelaw, Percy Edwards, and Barry Dennen
Jim Henson can only be described as the Tolkien of visual media. His creative visions go beyond story and characters into detailed settings and even languages. With this being said, I could see The Dark Crystal being seen as his crowning achievement in fantasy. Although, I find Labyrinth a much more deserving film of that title, The Dark Crystal still holds it's ground in being a practical effects marvel that is a very technically brilliant film. There are some elements that really keep me from loving this film, though; but, we will dive into those later…
After the dark crystal is cracked, two species are formed in its wake, the gentle Mystics and the awful Skeksis. The Skeksis commit genocide against the Gelflings, who are prophesied to bring an end to the imbalance of their world. It's up to Jen (Stephen Garlick), along with the help of another Gelfling named Kira, to find the missing piece of the dark crystal and return it to it's rightful place.
The biggest reason to watch this film is for the spectacular practical effects. The design of the film is easily the best part of the film. The looks of all the creatures and landscapes are what make this film watchable. There's always a certain amount of charm to all Jim Henson movies, and the Dark Crystal is not an exception of that charm. But, that's about all the great things I can say about this film, and I will get into detail on why in the next couple paragraphs.
The writing for this film is probably the least interesting for a fantasy film. The story doesn't give us near enough to keep us engaged for the whole hour and a half. Some scenes are dragged out so long that it feels completely unnecessary to even try to be interested. The whole movie is all about getting this shard to the dark crystal, but there's so much filler in between and it's like they just decided to be lazy and give the audience absolutely nothing to keep them satisfied along this tedious journey.
Frank Oz once said that to have a great character one must develop an intriguing background and personality before worrying about how it looks. I agree with this statement to an extent, but you can imagine my disappointment when I saw how underdeveloped the characters in the Dark Crystal are. Jen has no other purpose other than he's just doing what his guardian told him to do. The only background we get for him is that his mother and father died when he was young. It doesn't help that the acting is some of the worst acting I've seen delivered on a fantasy film. While watching the bonus features it really felt like they were describing a completely different film.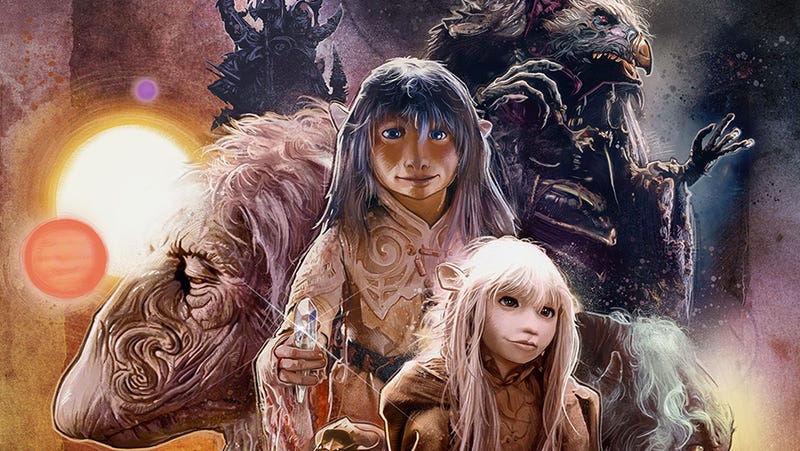 With that being said, I still have this odd pleasure watching this film. I definitely don't hate it, it's something that you can find very enjoyable depending on what mood you are in. This is a good film to watch if you're just looking for some great visuals, and if you're a die hard Jim Henson fan, I'd say give it a try. But, don't expect something that'll blow you away or you'll end up about as disappointed as I was.
Grade: C+